First Free Walking Tour – Make Rail Park Friendly to Chinatown
First Free Walking Tour – Make Rail Park Friendly to Chinatown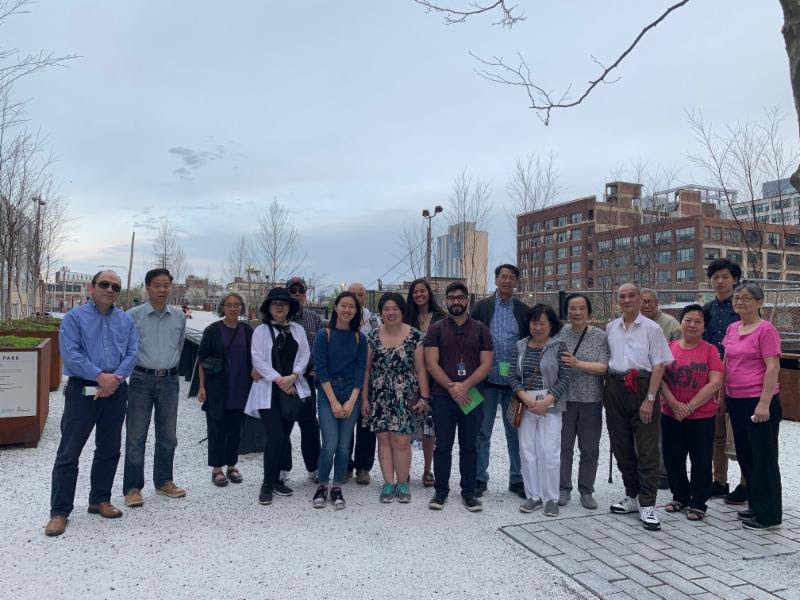 On a warm Monday evening, a group of fifteen people enjoyed a nice walk from On Lok House to the Rail Park, which opened in June of last year. The group mostly consisted of Chinatown residents of various ages. Most of them have never been to the Rail Park. Yue Wu, Community Planner at PCDC, and Shawn Sheu, Community Engagement and Programs Manager at Friends of the Rail Park, led the bilingual walking tour, which was intended to connect residents in Chinatown to the new public space.

Starting from On Lok Senior Center, the walk passed by 10th Street Plaza, which is part of the general effort to bridge the physical and psychological barrier between communities at south and north of Vine Street. At the Rail Park, the group learned about the close relation between the design of the park and local industrial history, saw the art installation, read multi-lingual poems on the tiles, and enjoyed the spring breeze while sitting on wooden benches.
After the tour, the group talked about their first impression of the park. Some of the group suggested polishing and painting the rusted trash cans and swings. After learning that the rusted iron was designed to memorize the local industrial history, they understood and appreciated the design. A resident from Francis House of Peace did not feel a sense of belonging at the park. He suggested that Chinese signage and design elements that represent Chinese culture would make him feel more welcomed. Some said Chinatown residents enjoyed physical exercise, while the current Rail Park did not have enough open space for group exercises. It was also mentioned that if there had been an elevator, people would come to the park more often.
PCDC will continue advocating for a local and inclusive Rail Park. It should be accessible to people of all ages, recognize Chinatown history and Chinese culture, and be programmed to promote physical and mental health of the neighborhood.